L'univers poétique d'une artiste origami miniature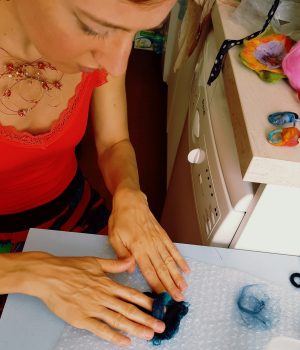 I discovered origami when I was 9, aldready with a special taste for miniature. Then it clicked for me in college, while following the course in philosophy. 
After studying musicology and communication, I have been involved in event planning and culture. Then origami appeared to be my preferred communication technique and my job in its own right in 2006.
Everyday (and sometimes during the night), flowers, dancers and animals are born from little paper squares.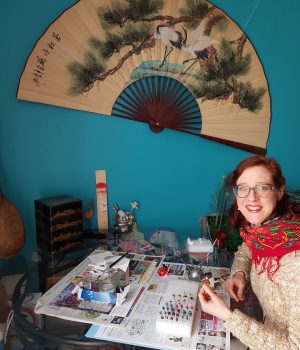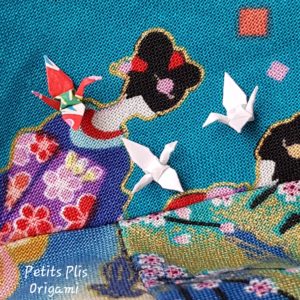 The symbolism of each paperfolding is always in my mind.
Origami comes from Shinto and this spiritual dimension nourishes me.

For example, an origami crane symbolises 1000 years of happiness and peace... this is my favorite, I folded thousands of them.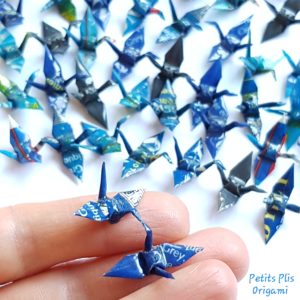 Japanese papers give a matchless charm to origami. But everyday life papers can provied good surprises too.

Yogurt lids, packaging paper and advertisement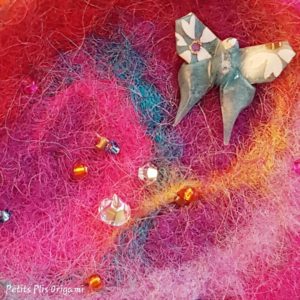 La rencontre avec des artistes feutrières lors des Journées Européennes de Métiers d'Art en 2017 m'a permis d'associer l'origami à une nouvelle technique : le feutrage à l'eau.

Cette matière malléable à volonté offre un support idéal aux pliages miniatures : des planètes feutrées, douces et colorées, rehaussées de broderies de perles.